---
We are excited to announce the arrival of a new capacity in our Emperor 910 2.5" SATA SSD card family. New to our store, is the hefty, and robust...2TB SATA SSD! This hearty addition to our popular 2.5" SATA SSD line offers all the excellence as before, now with twice the storage!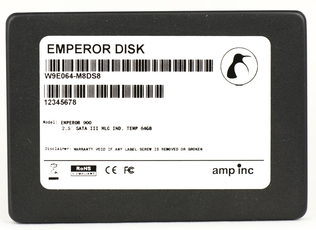 Allow us to remind you why Emperor's 2.5" SATA SSD is such a dynamic response to the needs of many of today's Tablets, UltraBooks, Hybrids NUC and Desktop PCs.
Emperor 900 2.5" SATA SSD delivers all the advantages of Flash Disk technology with Serial ATA I/II/III interface and is fully compliant with the standard 2.5" form factor. Available capacity now ranges from 16GB to 2TB! The device is designed based on the standard 7-pin interface for data segment and 15-pin for power segment. The 2.5" SATA runs at a maximum operating frequency of 300MHz with 40MHz external crystal. Based on Toshiba's 15nm Toggle MLC flash (with external DDRIII 256MB/512MB cache enabled and measured by CrystalDiskMark v3.0), Emperor 910 can reach up to 520MB/s read, as well as 500MB/s write, high performance speeds! Moreover, the 2.5" SATA SSD enables hot-swapping when removing, replacing, or upgrading flash disks and also provides low power consumption. With its improved Read/Write performance, SMART technology, reliability, and low power consumption…Emperor 910 2.5" SATA SSD is an ideal storage for embedded systems.
---
---