USBMS-F Module (Wireless USB Mini Card Adapter)
Introduction:
The USBMS-F module adapter is designed for desktop/Laptop PCs that convert 3G wireless Mini-Card to USB port.
As 50mF super capacitor is mounted, stable 3.3V power supply can be provided to MiniCard.
You can insert your USB type minicard such as GSM, HSPA(3.5G), GPS, LTE cards to this adapter then plug to USB port through USB cable.
Standard SIM card Push Push connector is provided.
Features
Specification
PCI Express Mini Card to USB adapter.
PCI Express Mini Card Electromechanical Specification Revision 1.2
Universal Serial Bus Specification Revision 2.0
Full/ Half -Mini Card dimension.
SIM Connector for CDMA HSDPA/HSUPA,UMTS, GSM, GPRS, EDGE
System Requirements
USB port
Windows 2000, XP, Vista 32/64, Windows 7
Linux
Notice:
USBMS-F is USB passive adapter. Just only support wireless USB minicard. Can't support PCIe minicard.
Please check compatibility list for detail.
USBMS-F module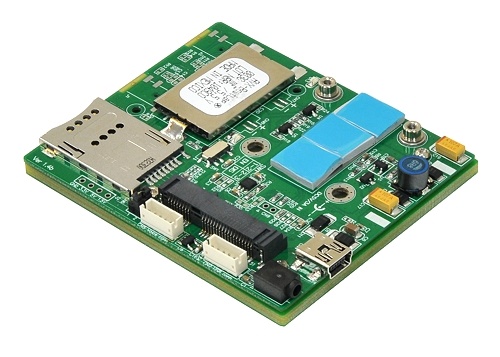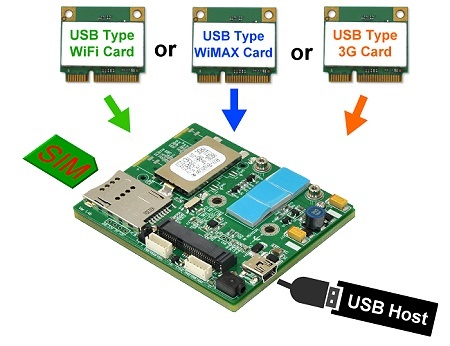 USBMS,USBMS-D, USBMS-E, USBMS-N15 Comparison 2011/Nov/15
Functions Comparison

Indicate LED

MIC/EAR CON

External Power

1.5V

Wake Function

USBMS
USBMS-D
USBMS-E
USBMS-N15
Caution:
1. USBMS-E design for Ericsson module.
2. Please use USBMS-N15 for LONGCHEER U6300V module using
USBMA, USBMV, USBMI, USBMS enclosure for wireless minicard comparison 2011/Dec/22
USBMx functions comparison

USBMA v1.1

USBMA v1.2f

USBMI

USBMI-D

USBMV

USBMV-D

USBMS

USBMS-D

USBMS-E

USBMS-N15

USB2.0 interface

PCIe interface

AC/DC 3.3V external power input

External access LED

3.3V output current (typ.)

1.5V output current (typ.)

By pass cap. for 3G card peak current

SIM card connector

MIC/EAR connector

MiniCard dimension support

Caution:
1. USBMS-E design for Ericsson module support wake function.
2. USBMS-N15 design for SierraWireless, LONGCHEER module using


USBMS-F module

Package Contents

Unit price:

US$ 180


USBMS-F module x1
with PCB pad x1

USB-Y-Line-2.0 (USB 2.0 Y-Line cable) x1

Y02-USB-099
(USB Dupont to 5PIN Cable) x1

P25AMTDC60 (USB A Male to DC Power Cable) x1

Screw x2