PP3U (PCI to USB3.0 Host Adapter)
Introduction:
This PP3U PCI – USB3.0 add-on card adapter allows you to use your existing USB3.0 device to legacy PCI bus interface.
10x faster than that of USB 2.0, this SuperSpeed USB 3.0 adapter card enables you to access your data and transfer files much faster than USB 2.0. The new USB 3.0 standard supports transfer rates of up to 5Gbps, while still providing connectivity and support for the older USB 2.0 (480Mbps) and 1.1 (12Mbps) devices.
Features
Fully compliant with PCI Standard Release 3.0, 32bit, 33/66MHz
One external 5G bps SuperSpeed USB 3.0 type A port
Output Voltage/Current: 5V/0.9A(Max).
External 5Gbps SuperSpeed USB 3.0 ports
The Windows XP/Server 2003/Vista/Server 2008/Windows 7 (Supports both 32-bit and 64-bit OS)
Operating Temperature: 0~40ºC
USB 3.0 Host Controller: Fresco FL1000G
PCI/PCIe Bridge controller: PLX PEX8112
Supports SuperSpeed USB (USB 3.0) peripheral by offering transfer rates of up to 5Gbps.
Supports PCI v.3.0 protocol, and a 32-bit wide parallel data path running up to 66MHz to PCI Host CPU
System Requirements: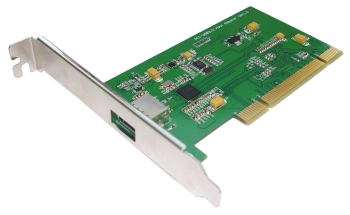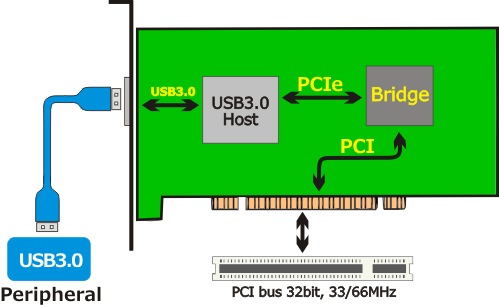 PP3U

Package Contents

Unit price:

US$ 45

PP3U

(PCI to USB3.0 Host Adapter) x1

Low profile PCI bracket x1