First Impression
M2P4B adapter enables PCIe base M.2(NGFF) PCIe SSD as a HDD Card for desktop PC.
M2P4B design for M.2(NGFF) PCIe Gen3 SSD.
Function
Allows user to use standard PCIE base M.2 SSD to PCIe x4 in the Desktop or Laptop.
Transparent to the operating system and doesnot require any software drivers.
Specifications
M.2 SSD to PCIe X4 adapter.
M.2 Specification Revision 1.0
Support 2230/2242/2260/2280type M.2 Card dimension.
Support M.2 Socket 3 PCI-e-based SSD Module.
Support M.2 Key M Card Type.
Support PCIe Gen3 x4
Boot from M.2 SSD storage.
---
We successfully installed the system through M2P4B Samsung SSD, and the success of the boot.
Operating platform follows:
CPU: Intel® Pentium® Processor G3258
MB: ASROCK Z97 Killer
OS: Windows 8.1 64bit
Adapter : M2P4B
SSD Hard Drive: Samsung XP941-128G M.2(NGFF) PCIe x4 SSD

Most Z97 chipset can support boot with PCIe's storage.
You can simply install the OS but chose the M.2 storage.
The chose setup BIOS to boot from it.


Note:
Because z97's BIOS is UEFI BIOS, make sure you boot from "UEFI: your storage name".
If you use generic's USB dongle to install your OS, then you need to choose "UEFI: generic storage".
If you use CD ROM to install your OS, please choose "UEFI: WDC WD10EARS-OOMVMBO"
Boot selection: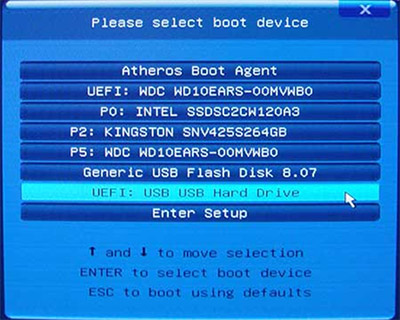 M.2 SSD to PCI-E from factor Adapter Compatibility List

2013Dec13
Gerry Chen

Brand / Model

Interface

Size

M2P4A

M2P4S

M2PS

M2P4B

Note

Samsung SM951 512GB

PCIe key M

2280

Pass
Pass

NG

Pass

Samsung SM951 256GB

PCIe key M

2280

Pass
Pass

NG

Pass

Samsung SM951 128GB

PCIe key M

2280

Pass
Pass

NG

Pass

Samsung XP941




MZHPU128HCGM-00000

PCIe key M

2280

Pass
Pass

NG

Pass

Samsung XP941




MZHPU256HCGL-00000

PCIe key M

2280

Pass
Pass

NG

Pass

Samsung XP941




MZHPU512HCGL-00000

PCIe key M

2280

Pass
Pass

NG

Pass

Samsung M.2 128G




MZ-NPD1280

SATA key B / M

2280

NG

NG

Pass

NG

Samsung M.2 128G




MZNTD128HAGM

SATA key B / M

2280

NG

NG

Pass

NG

BPLUS M2EM

SATA key B / M

2242

NG

NG

Pass

NG

ADATA AXNS341N-64GM-B

SATA key B / M

2242

NG

NG

Pass

NG

Sandisk X110

SATA key B / M

2242

NG

NG

Pass

NG

Samsung MZNTD128HAGM

SATA key B / M

2280

NG

NG

Pass

NG

Intel




SSD Pro 1500 Series

SATA key B / M

2280




2242

NG

NG

Pass

NG

Intel




SSD 530 Series

SATA key B / M

2280

NG

NG

Pass

NG

Tohsiba THNSNHGDNT

SATA key B / M

2280

NG

NG

Pass

NG

LITE-ON L8T-128L6G-HP

SATA key B / M

2280

NG

NG

Pass

NG

Brand

Interface

Size

M2P4A

M2P4S

M2PS

M2P4B

Note

Key M
Key M
Key B
Key M

M2P4A / M2P4B / M2P4S (M.2 Key M)
Designed for PCIE x4 based M.2 (NGFF) SSD module


M2PS (M.2 Key B)
Designed for SATA based M.2 (NGFF) SSD module
M2P4B


(PCIe 3.0 X4 to M.2 PCIe Gen3 SSD Adapter) x1



Y02-D01-060
(Dupont 2PIN Cable) x1
PGPAD x2


Screw x2