M2MS1 (M.2 (NGFF) to mSATA Adapter)
(Socket 2 SATA-based , Key B, Maximum dimension type 3042)
Introduction:
M.2 stands for Next Generation Form Factor which is invented for PCI-SIG by Intel® and it is developed for flat and high-efficiency equipment such as Ultrabook™ or Tablet PCs. It is a natural transition from the Mini Card and Half Mini Card to a smaller form factor in both size and volume which supports multiple function add-in cards/modules including: Wi-Fi, Bluetooth, global navigation satellite systems, near field communication, Hybrid digital radio, wireless gigabit alliance (WiGig), wireless wide area network and solid-state storage devices. Also adds functionality to USB 3.0, display Port, SDIO and SSD-PCIe.
Function
Allows user to use M.2 Socket 2 SATA-based Module to mPCIe Slot in the Desktop or Laptop.
Supports Hi-Speed SATA3/ 6Gbps mass storage interface.
No drivers needed for this M.2 to mSATA Card Adapter
Specifications
M.2 Specification Revision 0.9-3
Serial ATA Revision 3.1
Support 3030/3042 M.2 Card dimension.
Support M.2 Socket 2 SATA-based Module.
Support M.2 Key B/B+M Card Type.
Support Full size and half size mPCIe slot
System Requirement
mSATA slot
Windows 2000, XP, Vista 32/64, Windows 7, Windows 8 or Linux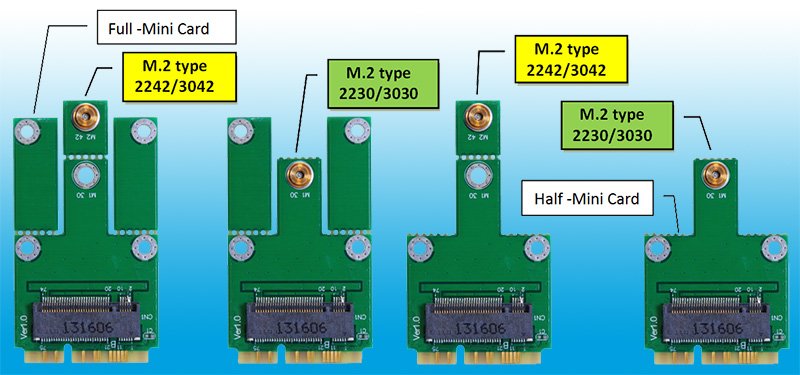 M.2 (NGFF) to mini PCI-E Adapter comparison

Model Name

M2MU2

M2MP1

M2MP1-E

M2MS1

Function

M.2 to mPCIe

M.2 to mPCIe

M.2 to mPCIe

M.2 to mSATA

Interface

USB 2.0

PCIe & USB2.0

PCIe & USB2.0

SATA

M.2 SPEC

Socket 2 SSIC-based WWAN

Socket 1

Socket 1

Socket 2 SATA-based

Application

3G / CDMA / LTE / GPS module

WiFi+BT module

WiFi+BT module

SATA SSD module

Module KEY

B

A

E

B / B+M

Support Card Type

2230/2242/3030/3042

2230/2242/3030/3042

2230/2242/3030/3042

2230/2242/3030/3042

Photo
M2MS1


M.2 (NGFF) to mSATA Adapter x1



Screw x2

Flat-Head Screw x1